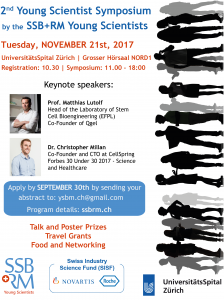 Dear Young Scientists, we are excited to announce the 2nd YS symposium that will take place on November 21st, 2017 at UniversitätsSpital Zürich.
You will have a chance to showcase your data in either an oral presentation or poster.  We also welcome two outstanding keynote speakers covering academia and university spinoffs.  Prof. Matthias Lütolf of EPFL and Dr. Christopher Millan from CellSpring will offer differing perspectives on life after studies.
To apply, send in your abstract (half page, max. one figure) by September 30th to ysbm.ch@gmail.com.
Travel grants are available on a first come, first serve basis, please indicate interest in your email.
If you have any questions please don't hesitate to contact us.
Looking forward to the YS Symposium,
The YSBM team