Young Scientists Activities
Lab Network Event, April 20th, 2018
Dear Young Scientists,
We are happy to announce the 4th Lab Networking Event organized by the SSB+RM Young Scientists!
Join us on April 20th at the AO Foundation in Davos for an interactive day of workshops on "Biomaterials in Prevention and Treatment of Orthopaedic Device-Related Infections". You can find more information in the flyer.
To register send an email to ysbm.ch@gmail.com by March 4th, indicating your name and affiliation.
Don't forget to apply to the travel grants that will be available in a "first comes, first served" base.
Program
11.00 – 11.15

Welcome

11.15 – 12.15

The burden of infection in orthopaedic trauma surgery

11.15

Mario Morgenstern (

Universitätsspital

Basel)
Local antibiotics in orthopaedic trauma surgery 

11.35

Henrik Eckardt (

Universitätsspital

Basel)
Reconstruction of long-bone defects

11.55

Andrea Montali (DePuy Synthes)
Innovation and Product Developement – The perfect couple or fatal attraction?

12.15 – 13.30

Lunch Break

13.30 – 14.30

Current and future strategies to prevent infection

13.30

Fintan Moriarty (ARI)
The basic science of device associated biofilm infection and antibiotics therapy

13.50

Daniel Arens (Preclinical Service AO)
Preclinical models of implant-associated infections

14.10

Olivier Guillaume (ARI)
Endowing orthopaedic implants with antibacterial properties: fairy tales from AO Research Institute

14.30

Stijn Rotman (ARI)
Bone targeting drug delivery system for antibiotics

15.00 – 15.30

Coffee Break

15.30 – 16.00

AO Preclinical Facility Tour

16.00 – 17.00

AO Research Lab Tour

17.00 – 18.30

Apéro
2nd Young Scientist Symposium by the SSB+RM Young Scientists
21.11.2017, 10:30-18:00, Universitätsspital Zürich, Grosser Hörsaal NORD1, Zürich, Switzerland
See announcement page
Lab & Networking Events
The best way to know a lab is to see it for yourself! The YS @ SSB+RM organize trips to labs and companies in the biomedical field in Switzerland. An opportunity to:
Discover a new field
Collaborate and network with people of your field
Visit lab's facilities and feel the atmosphere
Discover Switzerland
The last Lab & Networking event took place on the 31st of January, 2017, at the RMS Foundation in Bettlach (SO), in collaboration with Mathys AG Bettlach. The RMS welcomed us royally with an interesting program organized by Christoph Stähli. We thank him once again!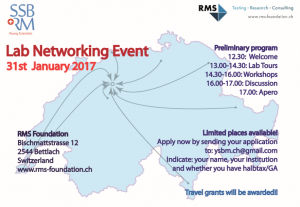 Trainings
The YS @ SSB+RM aims at organizing trainings during the SSB+RM Annual Meeting. During those, invited experts will get in depth in selected themes relevant to the biomedical field in a friendly and open environment to questions and tones of discussions.
The next training is on the topic of publishing in biomedical journals, tips and tricks will be uncovered! It will be held during the 2017 SSB+RM Annual Meeting, on May 17-18, 2017, in Empa St. Gallen. Registration form
Meet the Mentors
The main role of the mentors during the SSB+RM meetings is to be open for discussion with young scientists, especially during breaks and apero.
They are easily recognizable during the meeting, wearing a sticker with blue and green hands.
They are willing to provide useful inputs to presenting students, in particular by filling feedback forms with their appreciation and comments. This is however anonymous and non-mandatory. That is why in addition to mentors, a few other senior scientists are also asked to contribute.
During the diner, they are distributed on different tables, such that students can also self-spread on different tables according to their interests.
The Young Scientists Representative introduces them and their role at the beginning of the meeting.
Are you willing to be a mentor?
If you would like to be a mentor during the next SSB+RM annual conference or even throughout the year, please contact janine.conde @ dentsplysirona.com.