Young Scientists Activities
General Information about Activities
Lab & Networking Events
The best way to know a lab is to see it for yourself! The YS @ SSB+RM organize trips to labs and companies in the biomedical field in Switzerland. An opportunity to:
Discover a new field
Collaborate and network with people of your field
Visit lab's facilities and feel the atmosphere
Discover Switzerland
Trainings
The YS @ SSB+RM aims at organizing trainings during the SSB+RM Annual Meeting. During those, invited experts will get in depth in selected themes relevant to the biomedical field in a friendly and open environment to questions and tones of discussions.
Meet the Mentors
The main role of the mentors during the SSB+RM meetings is to be open for discussion with young scientists, especially during breaks and apero.
They are easily recognizable during the meeting, wearing a sticker with blue and green hands.
They are willing to provide useful inputs to presenting students, in particular by filling feedback forms with their appreciation and comments. This is however anonymous and non-mandatory. That is why in addition to mentors, a few other senior scientists are also asked to contribute.
During the diner, they are distributed on different tables, such that students can also self-spread on different tables according to their interests.
The Young Scientists Representative introduces them and their role at the beginning of the meeting.
Are you willing to be a mentor? If you would like to be a mentor during the next SSB+RM annual conference or even throughout the year, please contact janine.conde @ dentsplysirona.com.
The 5th Young Scientist Symposium – Bringing Materials to Life
When: Friday January 20th, 2023
Where: ETH Zurich, HG E 3, Rämistrasse 101, 8092 Zürich
Submit your abstract to ysbm.ch@gmail.com until October 31st 2022. Find all additional information on how to register on the flyer (PDF, 0.2 MB) to the event. We are looking forward to seeing you there!
Pre-conference Event at the 26th SSB+RM Annual Meeting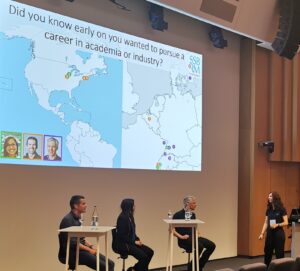 The ambitious theme of our pre-conference event on June 7th 2022 was "How to become a successful group leader in 120 minutes?". It was staged as a roundtable discussion with Prof. Priscilla Briquez and Prof. Wilfried Weber from the University of Freiburg, Germany and Prof. Bart Deplancke from the EPFL, Switzerland on the panel. It was inspiring to hear how none of their countless setbacks during their careers had been able to put even a small dent in their enthusiasm for research and how they still continue to learn and grow personally and professionally every day by engaging with their PhDs and post-docs. A big thanks to Prof. Martin Ehrbar and the rest of the SSB+RM executive committee for giving us the opportunity to host this event! Report (PDF, 1.0 MB)
6th Lab Networking Event at EMPA St. Gallen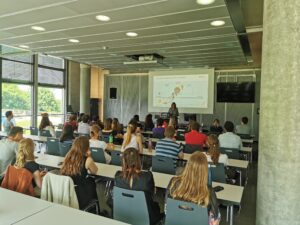 On May 20th 33 young scientists had the opportunity to visit EMPA in St. Gallen to find out more about their innovative approaches and technologies in the field of biomaterials and regenerative medicine. After Prof. Katharina Maniura's welcome presentation, we got to visit their labs and engage with the researchers behind the projects during the poster session. Big thanks to Urs Bünter and Dr. Markus Rottmar for hosting us at EMPA and organizing the event! Report (PDF, 0.2 MB)
The 4th Young Scientist Symposium – From Micro To Macro In Biomedicine
The Young Scientist team of the SSB+RM organized the 4th Young Scientist symposium on Thursday October 7th 2021, at ETH Hauptgebäude (HG) with the funding support from the ETHZ Rektorat (Ref. #1-000005-006 (VB 16195)). Keynote speakers: Prof. Inge Herrmann and Prof. Olivier Guenat. Flyer (PDF, 0.4 MB), Report of the YS symposium (PDF, 0.4 MB)
The 3rd Young Scientist Symposium – Clinical Translation: Challenges and Opportunities
Tuesday, January 14th, 2020, ETH Zürich Zentrum, Hauptgebäude (HG), Room D3.2; Registration: 10.30, Symposium: 11.00-18.00, Flyer (PDF, 2 MB)
5th Lab Networking Event
The Lab Networking Event took place last January 23rd, 2019 at Geistlich Pharma AG in Wolhusen.
Geistlich welcomed the Young Scientists to an afternoon of company overviews and research, as well as tours in their labs and production facility. The Young Scientists had the chance to learn how a family-run company established in 1851, which was originally involved in the production of natural glue and fertilizer, transitioned to the pharmaceutical market to combat bone atrophy during the Second World War. Since then, Geistlich has manufactured pharmaceutical and medical products which are nowadays highly used in the clinics. The Young Scientists had insights into the development and production of several of the products currently on the market, and even a behind-the-scenes visit to the facility where the products are produced, validated and packaged to be delivered worldwide. Also, Geistlich emphasized their commitment to continuous development and improvement of current and new products to match the needs of the future market. The day culminated with a delicious apéro sponsored by Geistlich!
An exciting afternoon of learning, networking and fun all together!
Thank you to Geistlich for the great organization (especially Claudio Zihlmann) and to the SSB+RM for funding the travel grants of the Young Scientists! Report as pdf (0.6 MB).
---
Lab Network Event, April 20th, 2018, AO Foundation, Davos. Interactive day of workshops on "Biomaterials in Prevention and Treatment of Orthopaedic Device-Related Infections"
2nd Young Scientist Symposium by the SSB+RM Young Scientists, 21.11.2017, 10:30-18:00, Universitätsspital Zürich
Lab Network Event, January 31st, 2017, RMS Foundation, Bettlach, in collaboration with Mathys AG, Bettlach